Skip to Content
About the Augusta Market in Augusta, GA
The Augusta Market at the River is a unique, open air venue that provides area farmers/growers & artisans an inviting, enjoyable location to sell their merchandise on the beautiful Savannah River. The Triple 8 Run takes place at 8 am every morning of The Market and offers 3 mile and 8 mile runs which all begin and end at the Fountain. The Triple 8 Run is a bi-state loop including The RiverWalk, 2 bridges over the beautiful Savannah River and the North Augusta Greenway. It brings out amateurs and athletes alike who in turn may spend the rest of their afternoon unwinding at The Augusta Market. This Market is a weekly social outing for area residents and visitors who shop at The Market and enjoy the ambiance, live music, fresh produce and the growing activities in downtown Augusta.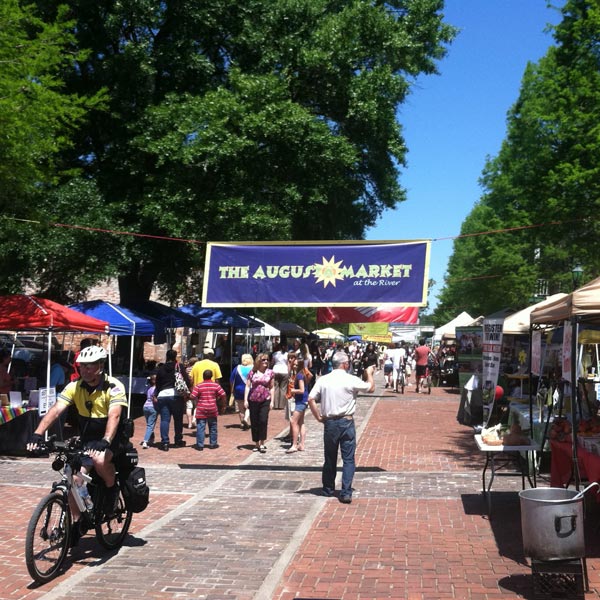 A Diverse & Supportive Community
At last weekend's Augusta Market, you could feel the community spirit as record crowds came out to support one of the best events going on in our great city. As we sat having lunch and watching the crowd, I was struck by what a wonderful experience it was simply to watch a diverse crowd of local citizens check out all the vendors with smiles on their faces on a beautiful sunny day. When we were leaving, a young man asked to shake my hand and stated "I can feel the change." Needless to say, this put another huge smile on my face. I want to personally thank everyone who has worked so hard to make this event a success and to invite everyone to come out to support it this Saturday as you definitely won't be disappointed.
How to Find Us!
The Augusta Market is located in beautiful downtown Augusta on the 8th street plaza that intersects with Reynolds street.
From I-20
Take the Riverwatch Exit and turn towards downtown.
Turn Left onto 13th Street.
Turn Right onto Reynolds Street.
Market is at 8th and Reynolds.
From Washington Road
Take Washington Road towards downtown.
Go over Calhoun Expressway which becomes Greene Street.
Turn left onto 8th Street and drive until you reach 8th and Reynolds.
Visit The Augusta Market Today